Science Information & Activities
---
About Computer Science Department
TECH-FEST 2010 Student Centric Activity
TECH-FEST 21st & 22nd December 2009
Tech-Fest Chief Guest Amey Shrikhade (Cricketer) Principal Dr.Sanjay Kharat Mrs.Shubhangi Bhatambrekar

Prize distribution of Interaction 2009 by Dr.G.R.Ekbote

Soft Skill Work Shop 8th August 2009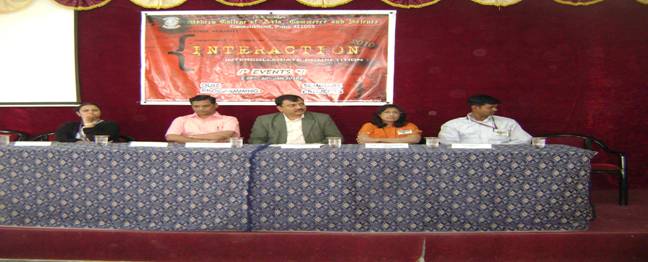 Interaction 2010 Vice-Principal Mrs.Kandhakar, Prof Dixit, Chief Guest Mr.Kunal Bhattacharya,
HOD Mrs.S.S.Bhatambrekar & Co-ordinator Mr.Sapkal
National Seminar
On
Advanced Trends In Mobile Computing.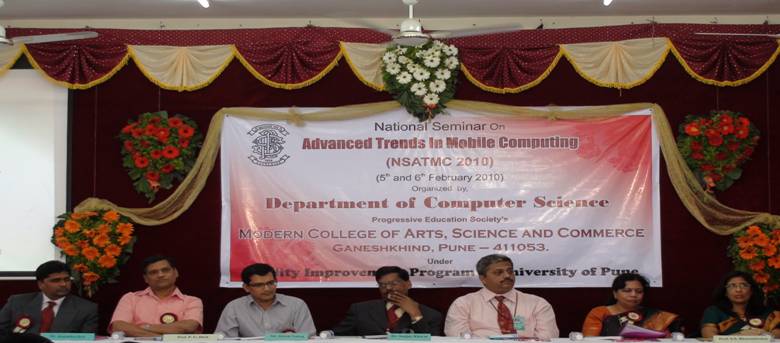 From left Prof.R.Bele, Prof.Dixit,Mr.Kiran Nataraj, Dr.Sanjay Kharat,Prof.Deshmukh,Mrs.Geeta Joshi,Prof. S.S.Bhatrambrekar
"Soft Skill Workshop"3rd September 2010
| | |
| --- | --- |
| Preface Speech by Placement Co-ordinator Mr.Satish Ambike. From Left.Vice-Principal Mrs.Swati Kandhakar, Chief Guest Mr.Anand Parchure, Mr.Atul Kahate and Mrs.S.S.Bhatambrekar. HOD Comp.Sci.Dept. | Speech of Chief Guest Mr.Atul Kahate during Opening Ceremony |
ACTIVITIES CONDUCTED BY THE DEPARTMENT - COMPUTER SCIENCE
Interaction - intercollegiate competitions for computer science students.
Conducted Workshop for syllabus restructuring(F.Y. B.SC. COMP. SC.) under faculty improvement program of Pune university.
State level seminar on "Evolution of cyber threads and need of increased security" under quality improvement program of Pune university.