Activities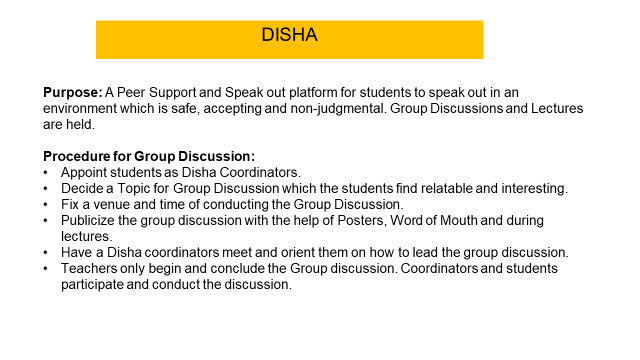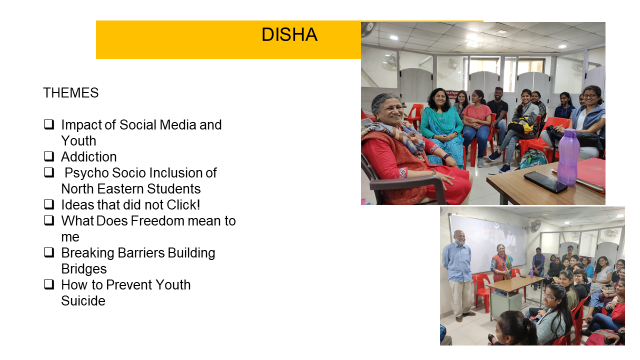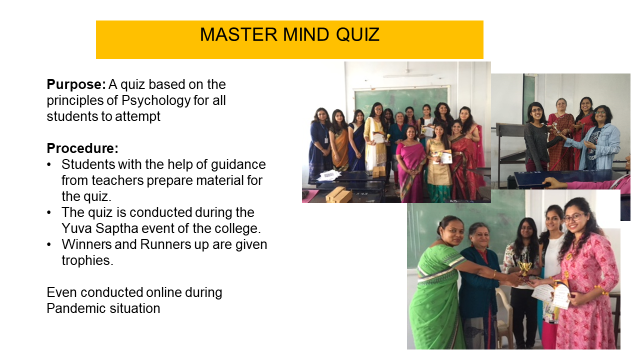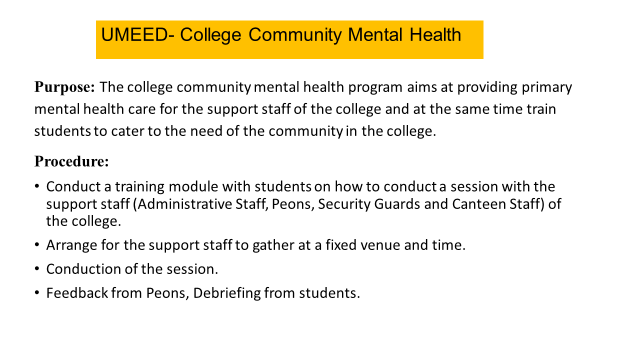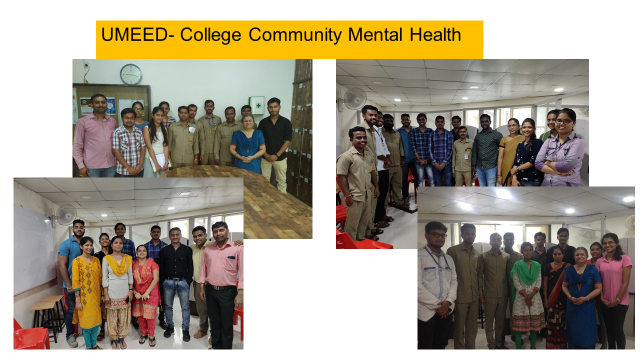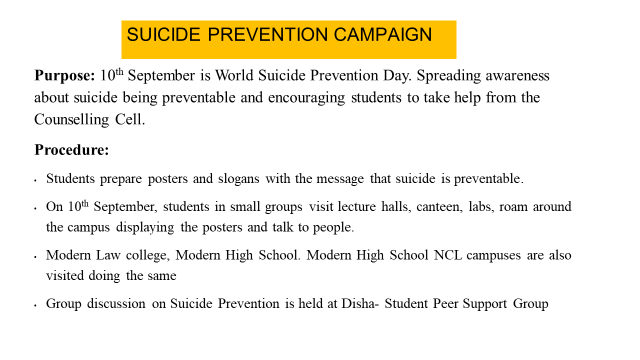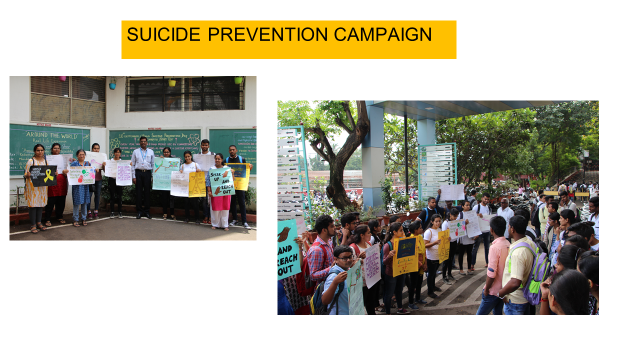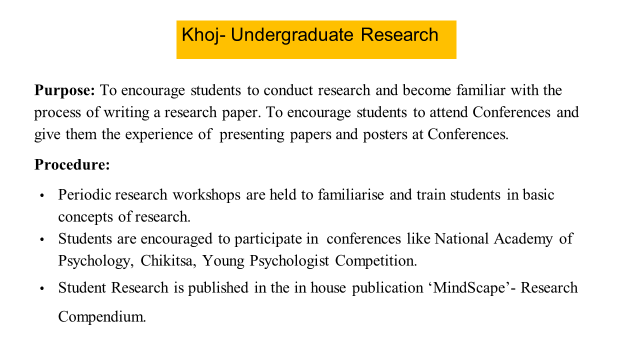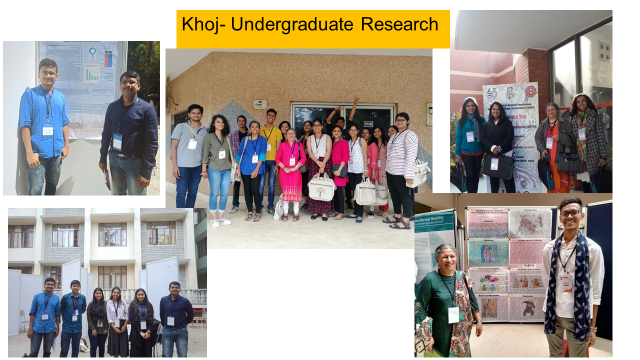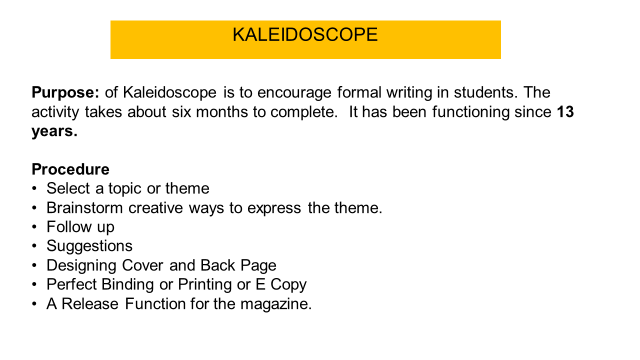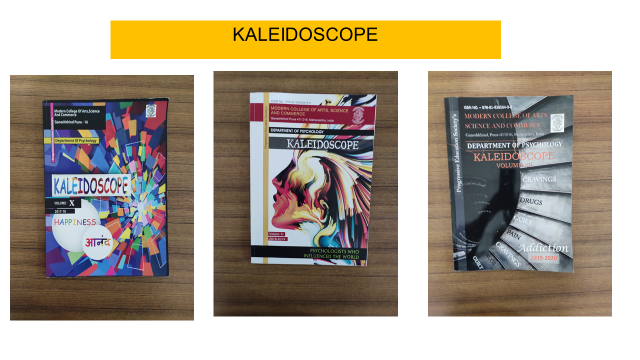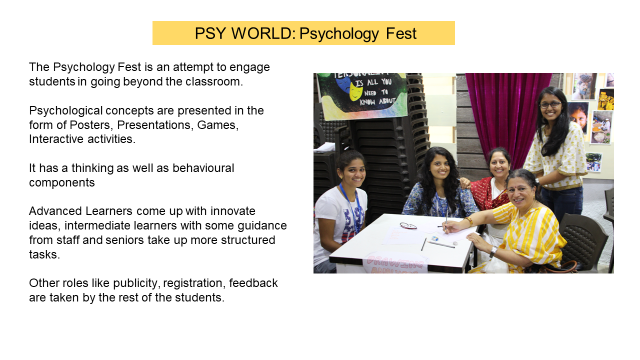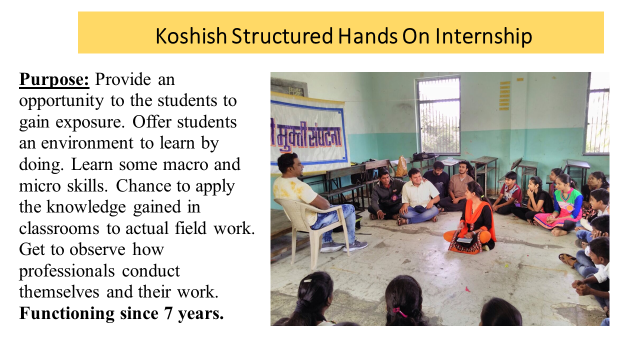 Participated in Evaluative Project for Bapu Trust for Mind and Discourse (May, 2016) - Three students from TYBA Psychology participated in an evaluative project conducted by Dr. Sadhana Natu for the Bapu trust. They conducted interviews and collected data for the evaluation. The students were paid at the end of the project.
Internship (June 2016)- Four students from TYBA Psychology interned with Bapu Trust where they helped in collecting data for a baseline survey for the Bapu Trust. They worked as paid interns for the duration of the whole month of June 2016.
Disha Group Discussion – 'Har Ek Friend Jajoori Hota Hai' 21st Aug- Students from first year, second year and third year got together for a group discussion on friends, friendship and unlikely friendships. Students opened up and shared their experiences.
Achyut Godbole and Neelambari Joshi – 'Manatcha Lekhan Pravas and the Importance of Psychology'- 26th August- Renowned Marathi Author Achyut Godbole and his co author Neelambari Joshi addressed the students about their literature journey in writing the book Manat.
8th Sep – Encouraging Attendance amongst students- Students who were showing inconsistency in attendance and were also showing academic lag, were called for a meeting to address their issues in attendance.
Varsha Pinagle and Kaheeli Shinde: Experts spoke about their respective fields. Varsha Pinagle spoke about Erasmus Mundus Scholarship and her work. Kaheeli Shinde spoke about her Institute.
World Suicide Prevention Drive: Students conducted a drive in the college campus to spread awareness about the Prevention of Suicide
Workshop Organized by the Department
| | | | |
| --- | --- | --- | --- |
| 1 | For Faculty- Learning and Learning Centered Learning: | 21/10/2016 | 10 assistant professors from Arts Faculty |
| 2 | For Students - Goal Setting Workshop | 07/09/2016 | 30students |
| 3 | Life Skills for Dept of BVoC | 23/09/2016 | 50 students |
| 4 | Life Skills for Dept of Physics | 21/09/2016 | 15 students |
Release of the Disha In house magazine Kaleidoscope Volume IX on the topic '100 years of psychology in India'- An annual magazine of the Disha Student Study Circle, Kaleidoscope encourages students to make an attempt to putting their thoughts in writing and laying down the basic for research writing.
PSYWORLD- The activity of the Department of Psychology involves activities like handwriting analysis, drawing analysis and presentations on topics like Military Psychology, Forensic Psychology and so on. This activity helps to build micro and macro skills of students. Learning occurs by doing. It help students make the connection from theory to applications. Students learn event management skills, presentation skills and are a part of the process from idea to product.